Trish moved from the "Jersey Shore" 32 years ago for a winter of skiing and
work and never left....

Always involved in the hospitality business, it only seemed natural to her to
start decorating those parties as as serving them.

A lifelong passion for gardening and flowers brought her next to a landscaping career,
which wokring part time with an area florist.

When the opportunity came alone for her and her husband Jeff to take over a local garden
florist of course they went for it.


Trish uses Vermont flowers in beautiful arrangements to create unique wedding settings at such high profile Vermont wedding venues as Riverside farm, the Amee farm, the Casabella Inn and the Swiss farm Inn located in the wedding hamlet of Pittsfield Vermont.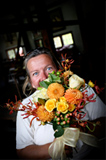 Spring finds the greenhouses over flowing with beautiful flowers. Vegetable plants, allowing Trish to grow many of the flowers she will later cut for parties. The Shop also rely's heavily on local growers and very reliable Vermont wholesalers in case you're looking for those perfect blue Hydrangea.
Depending on the time of the year you may find Trish herself of Jeff and their Yellow Lab Bess cutting Hay for their small herd of cattle, tending to their pumpkin patch for fall sales or selling Christmas trees.
So if you are planning a special event in Vermont please stop by or call. From formal centerpieces to pots of herbs, and sunflowers Trish is their to help your vision become reality!





Pittsfield Flower Shop
4441 Rte 100
Pittsfield Vermont 05762
Phone-Fax 802-746-8100